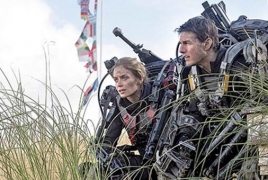 May 8, 2017 - 16:39 AMT
PanARMENIAN.Net - "Edge of Tomorrow 2" may be still in the early stages of development, but director Doug Liman has revealed the title of the "Edge of Tomorrow" sequel, AceShowbiz reports. Speaking to Collider, Liman said that the sequel would be titled "Live Die Repeat and Repeat". Liman also suggested that Tom Cruise and Emily Blunt might return to the sequel.
"We have an amazing story!" said Liman. He added, "It's incredible! Way better than the first film, and I obviously loved the first film. It will be called 'Live Die Repeat and Repeat'. Tom [Cruise] is excited about it, and Emily Blunt is excited about it. The big question is just when we'll do it. But it's not an if, it's a when."
For those who have watched the first movie, the title may sound familiar. The first movie was originally titled "All You Need Is Kill", taken from Hiroshi Sakurazaka's light novel it was based on. Warner Bros. later changed it into "Edge of Tomorrow", with a tagline read "Live. Die. Repeat".
"Edge of Tomorrow" follows an alien race which has hit the Earth in an unrelenting assault, unbeatable by any military unit in the world. Major William Cage (Cruise) is an officer who has never seen a day of combat when he is unceremoniously dropped into what amounts to a suicide mission. Killed within minutes, Cage now finds himself inexplicably thrown into a time loop-forcing him to live out the same brutal combat over and over, fighting and dying again...and again. But with each battle, Cage becomes able to engage the adversaries with increasing skill, alongside Special Forces warrior Rita Vrataski (Blunt). And, as Cage and Vrataski take the fight to the aliens, each repeated encounter gets them one step closer to defeating the enemy.
The flick with "Groundhog Day"-esque premise was released in 2014 and grossed $370.5 million worldwide.