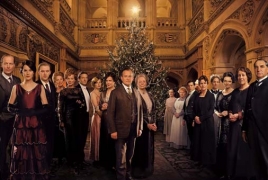 May 12, 2017 - 17:40 AMT
PanARMENIAN.Net - More than a year after "Downton Abbey" aired its series finale in the U.S., the cast may reunite for a movie version. Series creator Julian Fellowes is reportedly teaming up with Carnival Films again to make the big-screen take on the period drama, with shooting scheduled to start in September, AceShowbiz said.
"Film bosses have requested the services of crew members and accountants to work on the picture," a source tells The Sun. "A budget has been set and now it's a case of getting everything in place to start shooting. It would take something big to stop the project from happening now."
Fellowes has previously expressed interest in making a "Downton Abbey" movie, though he wasn't sure if all of the stars would be available to do it. "I'm completely up for a movie," he said in March 2016, "There are various considerations, which of the cast would be available. That would be a big thing. If we couldn't get enough of them to do it, it wouldn't really work. But as far as I'm concerned, I'm completely up for it."
There's still no word in which actors who have signed up for the possible movie. The show has catapulted its stars, namely Michelle Dockery, Lily James and Dan Stevens, into international fame. The Emmy-winning series was also supported by such acting vets as Maggie Smith and Hugh Bonneville.