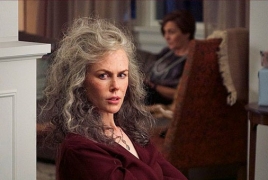 May 12, 2017 - 17:48 AMT
PanARMENIAN.Net - It has been a four-year wait since award-winning Jane Campion's "Top of the Lake" concluded its story in 2013. And now, the first trailer for its second season, titled "Top of the Lake: China Girl", has been released by SundanceTV for the audience's viewing pleasure. The chilling trailer sees "The Handmaid's Tale" star Elisabeth Moss returning to the series as detective Robin Griffin and starring opposite Academy Award winner Nicole Kidman, AceShowbiz said.
Robin has returned to Sydney in attempt to rebuild her life as well as re-connect with her daughter, Mary, whom she gave up for adoption at birth. Nicole, who plays a character named Julia, is glimpsed in the trailer. Donning a gray wig and freckled complexion, she is seen talking to someone off screen, "I would like to say thank you. Your baby has been loved by me very much." It seems like Julia is a woman who raises Robin's daughter all these years.
Things in Robin's professional life are not going so smoothly either. The trailer sees that Robin will be working on a case involving the death of a young Asian girl whose body is washed up on Bondi Beach. Also joining Elisabeth and Nicole on the crime drama is Gwendoline Christie ("Game of Thrones"), who will portray an assistant cop to Robin.
Robin's investigation on the murder case will seemingly involve Mary's boyfriend, played by David Dencik ("The Girl with the Dragon Tattoo"). David's character can be seen saying an intriguing remark during a family dinner in Mary's home. "The destiny of men is to enslave women," he says confidently. Mary, who looks lost, later is seen calling Robin and says, "Can you help me?" before the trailer concludes with a scene of Nicole's Julia warning someone off screen, "He is dangerous."
The six-part series follows detective Robin Griffin who "recently has returned to Sydney and is trying to rebuild her life. When the body of an Asian girl washes up on Bondi Beach, there appears little hope of finding the killer, until Griffin realizes 'China Girl' didn't die alone. The detective looks to the investigation to restore herself, but her problems are personal. Haunted by a daughter (given up at birth), Robin desperately wants to find her but dreads revealing the truth of her conception. But her search to discover 'China Girl's' identity will take her into the city's darkest recesses and closer than she could have imagined to the secrets of her own heart. 'Game of Thrones' Gwendoline Christie also stars along with David Dencik, Alice Englert and Ewen Leslie."
"Top of the Lake: China Girl" is once again co-written and co-directed by Jane, while Ariel Kleiman is onboard the series to replace Gerard Lee as co-director from the first season.
"Top of the Lake: China Girl" premieres at Cannes this May before airing episodically on SundanceTV in September. New episodes will be airing on Hulu the day after they air, as well as on the SundanceTV app and sundance.tv.