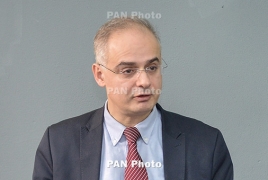 May 16, 2017 - 16:19 AMT
PanARMENIAN.Net - The Armenian National Congress (ANC) has described the violence against MP Zaruhi Postanjyan and her daughter as "barbarism and iniquity."
The daughter of mayoral candidate Postanjyan was detained and hospitalized as a result of police violence after the two women entered one of the campaign offices of the ruling Republican Party (RPA) and refused to leave it. They demanded that those inside revealed what papers they were allegedly hiding in one of the drawers.
Video footage posted online showed police dragging Postanjyan and her daughter out of the campaign office.
"Even if Postanjyan had no status of MP, what happened (at the polling station - Ed.) was despicable and illegal," ANC deputy chairman Levon Zurabyan said, according to RFE/RL Armenian Service.
Furthermore, he added, Postanjyan's parliamentary immunity deprives the police of any right to use physical force against her.
According to preliminary results, RPA will have 46 seats at the Yerevan City Council after securing 71.25% of votes. Coming in the second is YELQ bloc with 14 mandates (21%), while the recently-announced Yerkir Tsirani (Land of Apricot) party has five seats (7.75%).