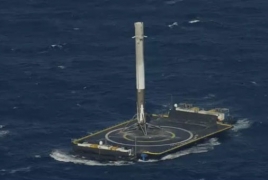 May 25, 2017 - 17:04 AMT
PanARMENIAN.Net - Sorry folks, things are about to get heavy, which means that SpaceX has begun test-firing the boosters for the Falcon Heavy, Engadget said. The company posted a clip of the event from last week, showing a side booster being put through its paces. Elon Musk subsequently tweeted that, when the Falcon Heavy launches, it'll be this powerful, but "times three." The CEO aded that "one way or another, launch is guaranteed to be exciting."
The first Falcon Heavy launch is expected to take place at some point this summer, with its two boosters being re-used from previous flights. The one in the video, for instance, was previously used to send Taiwanese communications satellite Thaicom 8 to the heavens. The vehicle itself, meanwhile, will be an extraordinary piece of equipment, with SpaceX saying that it'll be able to push 54 metric tons into space.