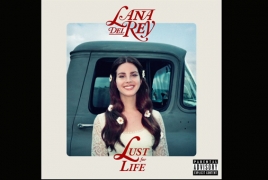 May 25, 2017 - 18:16 AMT
PanARMENIAN.Net - Lana Del Rey has confirmed the release date of her new album 'Lust For Life', NME reports.
The singer posted on Twitter earlier this morning (May 25) that the album will drop on July 21.
Del Rey's album has so far been preceded by lead single 'Love', her title-track and Weeknd collaboration, plus recent songs 'Coachella – Woodstock In My Mind' and 'Cherry'.
Del Rey also recently unveiled a witch-themed trailer for the album.The album is set to feature a collaboration with Fleetwood Mac's Stevie Nicks called'Beautiful People, Beautiful Problems'.
Of what it was like to work with Nicks, Del Rey said recently: "She was amazing. She's just everything you hope she's gonna be. She's so contemporary, and she knows all the new music that's out weekly. She loved the track and she added so much to it."
Describing the new album as 'more socially aware', Del Rey has said of the record: "I started out thinking that the whole record was gonna have a sort of a '50s-'60s feeling, kind of some kind of Shangri-Las, early Joan Baez influences."
"But I don't know, as the climate kept on getting more heated politically, I found lyrically everything was just directed towards that. So because of that, the sound just got really updated, and I felt like it was more wanting to talk to the younger side of the audience that I have. I guess it's a little more socially aware. It's kind of a global feeling."