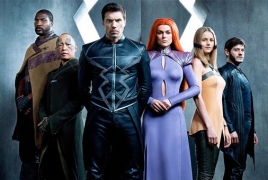 June 14, 2017 - 10:58 AMT
PanARMENIAN.Net - The first "Marvel's Inhumans" trailer has leaked online on the web, much to fans' pleasure, AceShowbiz said.
The less-than-one-minute sneak peek features a dialog between a man, presumably Maximus (Iwan Rheon), and a woman. "You're talking about betraying your brother. You're talking about treason," she says. "What I'm talking about is freedom. Freedom for all Inhumans," he claims.
The footage, meanwhile, shows what appears to be a coup d'etat, before Black Bolt (Anson Mount) arrives on Earth. There's a lot of fighting scenes, with or without gun. Black Bolt, who is wearing a suit possibly to adjust to the life on Earth, is later seen being chased by police and unleashing his power.
"Marvel's Inhumans" will follow the aftermath of a military coup that left the Royal Family of Inhumans splintered. They barely escape to Hawaii where their surprising interactions with the lush world and humanity around them may prove to not only save them, but Earth itself.
The first two episodes will play in IMAX for a two-week period beginning September 1 before the entire series is due to air on ABC this fall. Also starring on the new series are Eme Ikwuakor as Gorgon, Ken Leung as Karnak, Serinda Swan as Medusa, and Isabelle Cornish as Crystal.