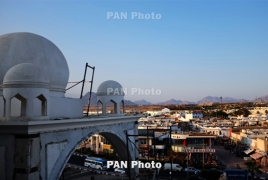 June 14, 2017 - 17:57 AMT
PanARMENIAN.Net - Egypt's plan to hand over two uninhabited Red Sea islands to Saudi Arabia under an agreement that has attracted widespread criticism moved closer to fruition with parliament set to vote on the measure on Wednesday, June 14, Reuters reports.
A key parliamentary committee unanimously backed the plan and referred it to parliament for a final vote before it can be ratified by President Abdel Fattah al-Sisi, its chairman told journalists.
Sisi's government last year announced a maritime demarcation agreement with Saudi Arabia, which has given billions of dollars of aid to Egypt, ceding control of the islands of Tiran and Sanafir to the Gulf kingdom.
"We have unanimously approved the maritime demarcation accord with Saudi Arabia and it will be voted on in the general session today," said House of Representatives Committee on Defense and National Security Chairman Kamal Amer.
Some members of the committee who did not attend the meeting on Wednesday criticized the decision to approve the accord.
The transfer plan triggered rare street protests last year from many Egyptians, who say their country's sovereignty over the islands dates back to a treaty from 1906, before Saudi Arabia was founded.
Dozens of protesters gathered in downtown Cairo on Tuesday evening and organizers said a handful were briefly detained.
The Egyptian and Saudi governments say the islands are Saudi but have been subject to Egyptian protection since 1950 at the request of Saudi Arabia's King Abdulaziz Al Saud.
The treaty has also been referred to the courts, irritating Riyadh and raising tensions between two major Arab states and traditional allies.