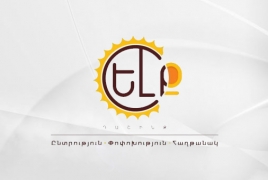 June 14, 2017 - 18:16 AMT
PanARMENIAN.Net - The leaders of Armenia's Yelk bloc and members of parliament Edmon Marukyan, Aram Sargsyan, Nikol Pashinyan and the head of Yelk Bloc faction in Yerevan City Council, Davit Khazhakyan, hosted U.S. ambassador Richard M. Mills on Wednesday, June 14.
Also participating in the meeting were Ruben Harutyunyan, political officer, and Lilit Ohanyan, political specialist at the Yerevan office of Bright Armenia Party.
Yelk leaders unveiled the bloc's upcoming projects and discussed a number of domestic political issues during the meeting.
Ambassador Mills congratulated them for winning the trust of the Armenian people and securing spots in both the National Assembly and the Yerevan City Council.
"The responsibility of playing a constructive role in opposition is a big one and the challenges are daunting, but the democratic process and effective politics demand your engagement and energy on behalf of all Armenians and Yerevan residents," Mills said.
"The United States government and Embassy stand ready to assist however we can."
The ambassador and members of Yelk bloc last met prior to the parliamentary elections to discuss various process that were happening in the country then.