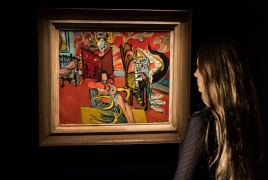 June 14, 2017 - 18:26 AMT
PanARMENIAN.Net - Sotheby's Modern & Post-War British Art Evening and Day Sales on 12 – 13 June brought a combined total of £8,345,750 / $10,634,989. Showcasing a host of outstanding and important works by Britain's most sought-after and celebrated artists, the sale saw robust interest from collectors with a sell-through rate of 82% and more than 60% of works propelled over their pre-sale high-estimates, according to Art Daily.
The auction was highlighted by William Roberts' vibrant and dynamic The Tea Garden – unseen since the late 1920s – which sparked a bidding battle to sell for £848,750 / $1,081,562 (est. £250,000-350,000). The subject was likely derived from one of his expeditions around London, observing and sketching, and perfectly encapsulates the tumultuous energy of society following the war using a distinctive eye for detail and gesture.
Welsh sculptor Barry Flanagan's expressive yet playful bronze Thinker On Rock leapt above its estimate to achieve a record £848,750 / $1,081,562 (est. £300,000-500,000). A modern day take on Auguste Rodin's iconic Le Penseur, Flanagan's anthropomorphic hare succeeds in being both humorous and poignant. The sale also saw artist records set for Richard Smith, Robyn Denny, Rex Whistler and Gilbert Spencer.
Among other works that attracted strong competition was Ben Nicholson's rediscovered Two Fishes, a poetic still-life that gives an intimate insight into the artist's interests and artistic connections – from playing tennis to the Parisian and Russian avant-garde – which brought £560,750 / $714,564 (est. £250,000-350,000). This enthusiasm carried through to fresh to the market works by Sir Peter Blake, Ceri Richards, David Hockney and Sir Winston Churchill.
Six works by avant-garde sculptor Reg Butler sold for a combined total of £186,250 / $237,338 (est. £89,500-144,500), with proceeds benefiting the Foundation established by Pierre Matisse and his wife Tana to advance arts education throughout New York and to award grants to institutions. Pierre Matisse's gallery in New York served as a bastion for modern European and Latin American art from 1931 until the late 1980s, championing avant-garde artists from Alberto Giacometti and Jean Dubuffet to Joan Miró with ground-breaking exhibitions.
Sotheby's summer season of Modern & Post-War British Art sales continue on 29 June with 'London to St Ives: A Journey Through British Art', property from an important private collection that tells the story of British Art during the mid-20th Century when London had a serious rival as the centre of the art world in a small fishing village in Cornwall. The selection comprises 49 works – featuring major British artists such as Frank Auerbach, Lucian Freud, Graham Sutherland, Patrick Heron, Peter Lanyon and Anthony Caro – and is estimated between £3-5 million.