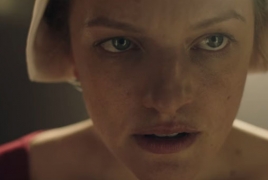 June 14, 2017 - 18:43 AMT
PanARMENIAN.Net - The Handmaid's Tale showrunner Bruce Miller has been teasing what to expect in season two, Digital Spy reveals.
Last month, the critically-acclaimed Margaret Atwood adaptation was renewed by Hulu with early reports suggesting it'll move beyond the book, although it will also cover book storylines that haven't been covered in the first season.
And before we discover what happens to Offred (Elisabeth Moss) in the season one finale, Miller has revealed season two is pretty much planned out.
"Where we are is quite far down the road in terms of devising the next season's arcs, but I also think we're still waiting to put out a show and to see people's reactions to this season," he told EW.
"Season two will be exploring lots more to the world of Gilead, and luckily there's lots to mine in the book, so even though we're in some ways moving beyond the book, we can stay true to Atwood's world and Atwood's tone, which we all love so much."
Miller also hinted that we're going to see a "lot of surprises" in the upcoming finale which will set up the next season.
"You always want something that is satisfying [for a season finale] but gives you something new. No-one wants to watch a television show that's just tying up loose ends, and that's not what we do," he explained.
"And I have to say, one of the things that struck me is that one of the themes of this final episode is what happens when the terrible thing you're dreading finally happens? Is that horrible or equal parts horrible and a relief?"
So not a cheery season finale then.
The Handmaid's Tale airs on Hulu in the US and Channel 4 in the UK.