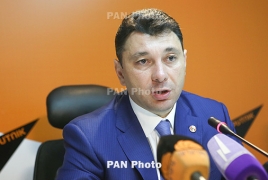 June 16, 2017 - 12:44 AMT
PanARMENIAN.Net - Spokesman for the Republican Party of Armenia (RPA), deputy parliament speaker Eduard Sharmazanov said on Thursday, June 15 that it would be much fairer for EU ambassador to Armenia Piotr Switalsky to point out the positive developments registered during elections to the National Assembly.
Switalski said on Thursday that elections were not perfect, and vote-buying and other electoral fraud cases were registered during the April 2 vote.
"It would be much fairer for the ambassador to point out all the positive trends, reforms and the progress registered in the Armenian electoral system and which contributed to the development of democracy," Sharmazanov was quoted as saying by Panorama.am.
"I have no more comments on the issue."
Sharmazanov added that the ambassador should have given a complete assessment which would include the achievements made with the EU assistance.
Also Thursday, the RPA spokesman urged the EU ambassador to the country to maintain political correctness and not to interfere in Armenia's internal issues.