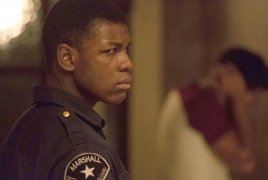 June 16, 2017 - 11:39 AMT
PanARMENIAN.Net - A new trailer for Kathryn Bigelow's "Detroit" has made its way out online for viewing pleasure. Focusing on John Boyega's Melvin Dismukes, the video shows how racism dominated during the five-day riot in 1967's Detroit and the interrogation that followed, AceShowbiz said.
"I was working security by Wisconsin and on Tuesday night we heard gunfire coming from the area near the Algiers. Police was there. There was a lot of shooting," he says to two white men about what happened in the Algiers Motel. "When I went in there, three kids had been killed."
But the interrogators appear to doubt his story and soon point the finger at him. "You carry a .38 right?" one of the white men asks, while another slams the table and asks, "You carry a revolver? ... You ever shoot anyone?"
The interrogation scene is intercepted with scenes showing what happened that intense night, with police shooting at a room in the motel, bursting through the doors and arresting the young teenagers. There are also glimpses of the riots that rock the city.
Based on a true story, "Detroit" hails from awards-winning director Kathryn Bigelow and is written by her frequent collaborator Mark Boal. Also starring Will Poulter, Algee Smith, Jacob Latimore, Jason Mitchell, Hannah Murray, Kaitlyn Dever, Jack Reynor, Ben O'Toole, John Krasinski, Anthony Mackie, Joseph David Jones, Leon Thomas III, Nathan Davis Jr., Peyton Alex Smith, Malcolm David Kelley, Chris Chalk, Jeremy Strong and many others, "Detroit" is set to hit U.S. theaters on August 4.