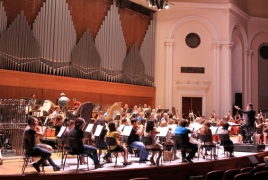 June 16, 2017 - 13:38 AMT
PanARMENIAN.Net - VivaCell-MTS General Manager Ralph Yirikian has met with the musicians of the Armenian National Philharmonic Orchestra to sum up the achievements of the orchestra on international stages and festivals throughout 2016-2017 concert season.
The traditional informal meeting of the orchestra with its general partner covered a number of topics: both work-related, professional issues, and upcoming projects.
Throughout the resent years, under the baton of artistic director and principal conductor Eduard Topchjan, the Philharmonic has participated in prominent festivals in Finland, Norway, Denmark, Poland, Germany, the US, Mexico, Lebanon, Russia and other countries. The 2016-2017 concert season has been marked with a number of memorable events: symphonic and chamber concerts, participation in international festivals, and more. One that stands out is the concert dedicated to the 25-th anniversary of the Independence of Artsakh in September. The concert season was also marked with a special innovation: for the first time in Armenia, and probably in the world, "The Nutcracker" was presented in a new 3D format.
"The result of your hard work is obvious: you possess well-honed performance skills, your art goes beyond its aesthetic value: it shapes tastes and educates generations. I am glad for our long-term partnership and for the opportunity to support the development and preservation of classical music in Armenia. Keep up the exceptional work and dedication to your mission," said Yirikian.
For already eight years, VivaCell-MTS has undertaken the general partnership of the Armenian National Philharmonic Orchestra. Owing to this cooperation, the Orchestra has reached a high level of performance, having outstanding concert tours not only in Armenia, but also abroad.