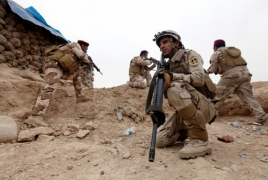 June 19, 2017 - 10:54 AMT
PanARMENIAN.Net - Iraqi forces began storming the Islamic State-held Old City of Mosul on Sunday, June 18 in an assault they hope will be the last in the eight-month-old campaign to seize the militants' stronghold, Reuters reports.
The historic district, and a tiny area to its north, are the only parts of the city still under control of the Islamists. Mosul used to be the Iraqi capital of the group, also known as ISIS.
"Iraqi forces early this morning breach into old Mosul, the final ISIS-held district in the city," Brett McGurk, the U.S. envoy to the international coalition fighting Islamic State, said on Twitter. "We are proud to stand with them."
The Iraqi army estimates the number of Islamic State fighters at no more than 300, down from nearly 6,000 in the city when the battle of Mosul started on Oct. 17.
But the Old City is a densely-populated maze of narrow alleyways and the fighting is slow, bloody and house-to-house.
About 100,000 civilians are trapped, with little food, water or medical treatment.
"This will be a terrifying time for around 100,000 people still trapped in Mosul's Old City ... now at risk of getting caught up in the fierce street fighting to come," the International Rescue Committee (IRC) said in a statement.
"This is the final chapter" of the offensive to take Mosul, said Lieutenant General Abdul Ghani al-Assadi, senior commander in Mosul of the elite Iraqi Counter Terrorism Service (CTS) units spearheading the assault.
A U.S.-led international coalition is providing air and ground support to the campaign.
Several air strikes during the day hit a medical complex just north of the Old City, alongside the western bank of the Tigris river, a Reuters TV reporter said.
Armoured vehicles were heading toward the front line north of the Old City, and shelling and gunfire could be heard.