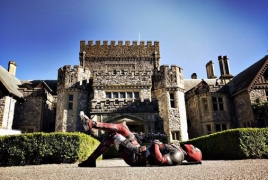 June 19, 2017 - 12:07 AMT
PanARMENIAN.Net - Ryan Reynolds is such a tease. The actor took to his social media to share the first picture from "Deadpool 2" set. The Hollywood hunk rocked a full costume as the Merc with a Mouth, taking a nap in front of the majestic X-Mansion, AceShowbiz said.
"Dropped by the X-Mansion. Big surprise. No one's home," he channeled his motor-mouthed character in the Twitter caption. He added on Instagram, "Looked closely for Beast's lawn bombs before taking well deserved nap."
The second "Deadpool" movie is coming out June 1, 2018 stateside. Directed by David Leitch and scripted by Rhett Reese, the film will see Stefan Kapicic returning as Colossus and Brianna Hildebrand as Negasonic Teenage Warhead. Josh Brolin is added as Cable and Zazie Beetz as Domino.