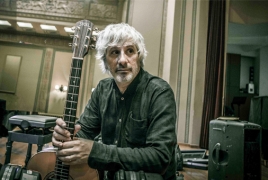 June 20, 2017 - 12:49 AMT
PanARMENIAN.Net - Sonic Youth's Lee Ranaldo has announced details of his brand new album. Electric Trim is released on September 15 by Mute Records and is also set to feature a stellar cast of support players including Sharon Van Etten and Wilco's Nels Cline. And if that wasn't enough, you can check out 'Circular (Right As Rain)', from the album below, Gigwise said.
Speaking of the nine-track album, Ranaldo said: "I'm so excited about this record, it represents new developments and directions for me and I can't wait to hit the road and play this music live.
"I'm also so pleased to partner with Mute for this release – it's like a homecoming of sorts as Sonic Youth's early records were released on Blast First / Mute. To me Mute has always been a true artist's label, concentrating first and foremost on the music. I can't wait for everyone to hear this music."
Judging by the video for 'Circular (Right As Rain)', you can see why Ranaldo is so excited. Featuring the vocal talents of Sharon Van Etten and Nels Cline's idiosyncratic guitar playing, the song finds Ranaldo moving into far more melodic territories than he's usually credited for.
In addition to his own band The Dust (fellow Sonic Youth member Steve Shelley, guitarist Alan Licht, and bassist Tim Luntzel) and Van Etten and Cline, the album also features Kid Millions.
Electric Trim's tracklisting is:
Moroccan Mountains Uncle Skeleton Let's Start Again Last Looks (with Sharon Van Etten) Circular (Right As Rain) Electric Trim Purloined Thrown Over The Wall New Thing