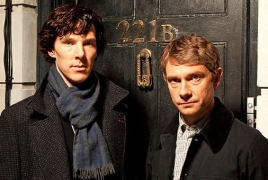 June 21, 2017 - 11:02 AMT
PanARMENIAN.Net - The minds behind hit mystery-drama series "Sherlock", Mark Gatiss and Steven Moffat, are eyeing a new take on Bram Stoker's 1897 Gothic novel "Dracula". Gatiss and Moffat are set to pen the miniseries, with Sue Vertue's Hartswood Films producing, AceShowbiz reveals.
According to Variety, Gatiss and Moffat are in talks with the BBC for the U.K. broadcast rights. However, it is reportedly in early stage as both Gatiss and Moffat are currently working on solo projects.
Stoker's literary work sees the iconic vampire attempting to move from Transylvania to England in his search for new blood. It has not been decided yet whether the "Dracula" TV series will have a modern-day British setting like "Sherlock". Plot detail and cast are currently unknown.
"Dracula" marks the first collaboration between Gatiss and Moffat since the last "Sherlock" episode, which aired in January in the U.K. Although there are no plans for a new series of the Benedict Cumberbatch and Martin Freeman-starring hit series, Gatiss and Moffat don't necessarily rule out to write more episodes in the future.
Besides writing "Sherlock", Gatiss stars on the series as the titular character's brother Mycroft Holmes. He also guest-starred in 2 episodes of "Game of Thrones", playing Iron Bank of Bravoos employee Tycho Nestoris. As for Moffat, he wrote and executive produced six seasons of "Doctor Who".