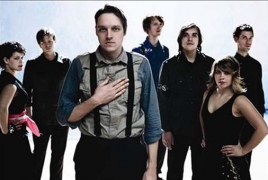 June 29, 2017 - 17:03 AMT
PanARMENIAN.Net - Arcade Fire have unveiled the full tracklist for new album 'Everybody Now', NME reports.
The band shared the song titles for their upcoming album in a Twitter graphic – check it out below.
1. 'Everything_Now' (continued) 2. 'Everything Now' 3. 'Signs of Life' 4. 'Creature Comfort' 5. 'Peter Pan' 6. 'Chemistry' 7. 'Infinite Content' 8. Infinite_Content' 9. 'Electric Blue' 10. 'Good God Damn' 11. 'Put Your Money On Me' 12. 'We Don't Deserve Love' 13. 'Everything Now' (continued)
Meanwhile, the band have also shared a teaser clip for their 'Signs Of Life' video, which will arrive in full tomorrow (June 30). The teaser shows the band members clad in sparkly gold suits, intercut with what appears to be an action-packed chase scene.
Last week, Arcade Fire shared a strange new "Official Official" video for latest single 'Creature Comfort', which came accompanied by all manner of annotations and notes from the fictitious Everything Now Co. They teased the track by releasing a mock cereal advert and placing boxes of cereal around Dublin ahead of a show at the city's Malahide Castle.
Last month, Arcade Fire released 'Everything Now', the title track from their upcoming album, which is released on July 28. It's the follow-up to 2013's 'Reflektor'.
The record was produced by the band themselves, along with Daft Punk's Thomas Bangalter and Pulp musician Steve Mackey, with co-production coming from Markus Dravs (Coldplay, Mumford and Sons). It was recorded at Boombox Studios in New Orleans, Sonovox Studios in Montreal, and Gang Recording Studio in Paris.
Arcade Fire will return to the UK next month with two intimate dates at London's York Hall on July 4 & 5 before heading to Manchester for a show at the city's Castlefield Bowl on July 6.