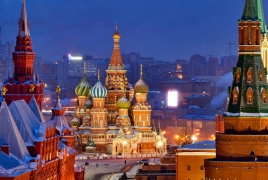 June 30, 2017 - 15:11 AMT
PanARMENIAN.Net - Yuan shang (Crested Ibis) by Chinese director Qiao Liang was awarded the top prize, the Golden St George, at the Moscow International Film Festival, The Hollywood Reporter reveals.
The movie is centered on a Beijing reporter who goes back to his hometown to report a crested ibis, an endangered species and discovers wider environmental issues.
The awards ceremony took place in the Russian capital on June 29, and the other big winners were Turkey's Fikret Reyhan who collected the best director's Silver St George for Sari Sicak (Yellow Heat), a drama focused on an immigrant family trying survive by traditional farming.
The Special Jury Prize to Meshok bez dna (The Bottomless Bag) by Russian director Rustam Khamdamov.
Elsewhere, Verena Altenbergerlead won best actress for her turn in Die Beste Aller Welter (The Best of All Worlds) and Son Hyun-Ju was awarded as the best actor for his role in Botongsarsam by Korean director Kim Bong-han.
The Stanislavsky Special Prize for lifetime achievement went to Italian actor Michele Placido.