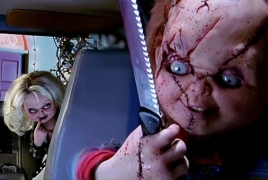 June 30, 2017 - 15:18 AMT
PanARMENIAN.Net - This Halloween is going to be creepier with the return of Chucky. Four years after its last movie "Curse of Chucky", the demonic doll is back in "Cult of Chucky" that features some familiar faces, including Nica (Fiona Dourif), Chucky's now grown-up nemesis Andy (Alex Vincent) and Chucky's bloodthirsty bride Tiffany (Jennifer Tilly). The first trailer is now out for your viewing pleasure, AceShowbiz reports.
Confined to an asylum for the criminally insane for the past four years, Nica Pierce is erroneously convinced that she, not Chucky, murdered her entire family. But when her psychiatrist introduces a new therapeutic "tool" to facilitate his patients' group sessions - an all-too-familiar "Good Guy" doll with an innocently smiling face - a string of grisly deaths begins to plague the asylum, and Nica starts to wonder if maybe she isn't crazy after all.
Andy Barclay, Chucky's now-grown-up nemesis from the original "Child's Play", races to Nica's aid. But to save her he'll have to get past Tiffany, who will do anything, no matter how deadly or depraved, to help her beloved devil doll.
The trailer arrives in two versions, the red band and the green band version. The red band version offers glimpses of some gory murder scenes, including Chucky cutting off a head and Chucky sticking its hand through the back of someone's head. Director Don Mancini previously promised that the seventh installment would be Chucky's bloodiest outing to date.
Brad Dourif returns as the voice of Chucky. "Cult of Chucky" will be released October 3 on unrated Blu-ray, DVD and digital.