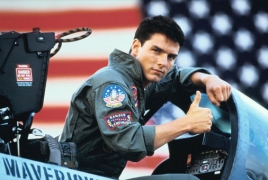 July 1, 2017 - 10:55 AMT
PanARMENIAN.Net - Paramount Pictures has announced the release date of "Top Gun 2". The long-gestating sequel to Tom Cruise's hit 1986 movie is set to be released in theaters across the nation on July 12, 2019, AceShowbiz reports citing Deadline.
In addition, the studio has confirmed that "Tron: Legacy" helmer Joseph Kosinski will serve behind the lens. Kosinski will re-team with Cruise, whom the helmer worked together with on the 2013 sci-fi movie "Oblivion". Jerry Bruckheimer is back as producer, while Peter Craig and Justin Marks are on board to pen the script along with Ashley Miller and Zack Stentz.
In the second "Top Gun" movie, Cruise will reprise his role as Maverick, who is "now a flight instructor teaching the young macho pilots how to do it." The actor has revealed that he doesn't want the sequel to have a number in the title, so it will be called "Top Gun: Maverick", after his character's code name.
"Aviators are back, the need for speed. We're going to have big, fast machines...It's going to be a competition film, like the first one," Cruise previously said. He explained that "it's going to be in the same vain as the first one, but a progression for Maverick."