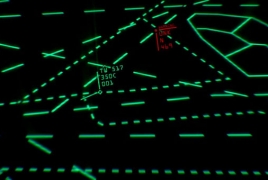 July 5, 2017 - 13:04 AMT
PanARMENIAN.Net - Sony Pictures dropped a teaser trailer for Steven Spielberg's "Close Encounters of the Third Kind" during the Independence Day holiday. The video was released in honor of the hit sci-fi flick's 40th anniversary. It's titled "This Means Something", a reference to protagonist Roy Neary's famed line, AceShowbiz said.
The brand new teaser trailer was released two months before a one-week theatrical re-release of the movie this September. The nearly-1-minute video mostly shows an air traffic controller screen matched to audio from an early scene in the 1977 movie.
The video also included a link to a website, www.WeAreStillNotAlone.com, with a sign-up form for "updates on UFO sightings." But actually, it's a page where fans can submit their email address for "upcoming movies, DVD's, soundtracks, free downloads, TV shows, cool promotions & events and more."
While there's no mention of the re-release in the video, multiple reports say that Sony "will put the movie in U.S. and Canadian theaters for a week beginning September 1." The video was posted on the studio's YouTube page on Monday, July 3, which happened to be World UFO Day.
"Close Encounters of the Third Kind" starred Richard Dreyfuss, Francois Truffaut, Melinda Dillon, Teri Garr, Bob Balaban and Cary Guffey. Originally distributed by Columbia Pictures, the movie grossed over $337 million worldwide against its budget of $20 million.
It was nominated for eight Academy Awards. It's only win was for Vilmos Zsigmond's cinematography, although the Academy honored the film's sound effects editing with a Special Achievement Award (Frank Warner).