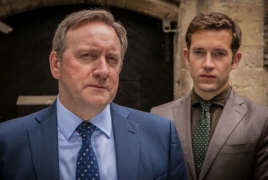 July 11, 2017 - 18:07 AMT
PanARMENIAN.Net - The latest season of British TV's most enduring export, "Midsomer Murders," has been pre-bought in the U.S. and a host of other international territories, Variety said.
The upcoming twentieth season of the show, which is also known as "Inspector Barnaby" internationally, has been picked up by SVOD service Acorn in the U.S., where it is also on Netflix.
The series follows police detectives as they investigate murders in the seemingly bucolic English town of Midsomer. Series 20 of the show stars Neil Dudgeon as DCI John Barnaby and Nick Hendrix ("The Crown") as DS Jamie Winter.
In the U.K., the whodunit is on commercial network ITV. Global buyers of the new season include the ABC in Australia, Sky in New Zealand, DR and SVT in Scandinavia, and VRT in Belgium. Broadcasters including France TV, Italy's La7, and ZDF in Germany also recently renewed deals for the detective show.
All3Media-backed producer Bentley Productions produces "Midomer Murders" and All3Media International distributes it and struck the new international deals. The series is one of the bestselling ever out of the U.K., which was recognized by UK international trade minister Mark Garnier.
"Successful British dramas help to make the UK a world leader in television production and our sales of TV exports go from strength-to-strength," Garnier said. "Our programmes are some of the most recognisable and highly anticipated across the globe, so it's no surprise that 'Midsomer Murders' is in such demand."
Louise Pedersen, CEO at all3media International, added: "The drama has sustained over the 20 years and built upon its position as a real must-watch for legions of fans globally."