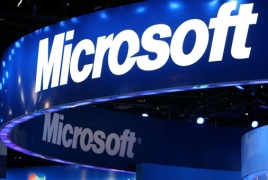 July 12, 2017 - 11:47 AMT
PanARMENIAN.Net - Microsoft Corp on Tuesday, July 11 announced an initiative to bring high-speed internet to millions of rural Americans through unused television airwaves in a long-term bet for user growth, Reuters reports.
The Redmond, Washington, technology company proposed using spectrum typically reserved for TV stations to broadcast high-speed internet to underserved U.S. locations. To start, Microsoft will commit to a five-year effort to bring broadband connectivity to 2 million underserved rural Americans.
Microsoft, whose products include the Windows operating system, Office 365 productivity suite and Skype video service, hopes other companies and the government will support what it has dubbed the Rural Airband Initiative. However, the plan has attracted opposition from broadcasters who are reluctant to share the airwaves.
"This is really all about getting everybody online in rural communities," Brad Smith, Microsoft's chief legal officer, told Reuters. "That includes consumers, it includes businesses, it includes farmers and agricultural enterprises and it includes schools."
Reaching all 23 million underserved rural Americans would cost as much as $12 billion, Microsoft said. Smith said the company will spend whatever it takes to reach the targeted 2 million people. It plans to launch at least 12 projects across 12 states within the next 12 months, and has partnerships with telecom companies including CenturyLink Inc(CTL.N) in Washington state, and hopes for more partners, Smith said.
"Our goal is to work with as many people as possible," he said, adding he hopes the Trump Administration will consider government funding for the project as part of an infrastructure bill expected in the fall.
"My sense is that they are focused on a full range of infrastructure needs, including 21st century infrastructure like broadband," Smith said. "We welcome the dialogue."