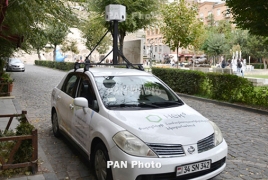 July 13, 2017 - 16:06 AMT
PanARMENIAN.Net - Yandex, the "Google of Russia," and Uber have agreed to merge their ride-sharing businesses in Russia, Armenia, Azerbaijan, Belarus, Georgia, and Kazakhstan with Yandex as leading partner, the companies said on Thursday, July 13, according to Fortune.
The deal marks another pullback from Uber's breakneck global expansion, coming a year after its exit from China.
In a joint statement, Yandex and Uber said they will join forces in Russia, Armenia, Azerbaijan, Belarus, Georgia, and Kazakhstan to create a new company operating in some 127 cities, in a deal expected to close in the fourth quarter.
As part of the deal, Uber will contribute its UberEATS food delivery business in the six-country region to the new venture.
Diversified internet giant Yandex is the dominant player in Web search, maps and mobile navigation in the region.
San Francisco-based Uber has agreed to invest $225 million while Yandex has agreed to invest $100 million into a new joint company in which Yandex will own 59.3%, Uber hold 36.6%, and employees having a 4.1% stake.
Uber said that the merger in Eastern Europe does not imply a strategy of further retrenchment elsewhere. Indeed, financial terms of the deal make it a lucrative one, it said.
"This is an exciting opportunity in a unique situation and our operations in other countries will not be affected," Pierre-Dimitri Gore-Coty, the head of Uber in Europe, the Middle East and Africa, said in a blog post addressed to Uber employees.
Gore-Coty said Uber's 36.6% stake is worth $1.4 billion, based on an agreed valuation of $3.725 billion for the combined company.
That marks a sizeable gain on the $170 million Uber invested since entering the region three-and-a-half years ago, even with the new $225 million investment.
Uber sold its Chinese business to far larger local rival Didi Chuxing a year ago in return for Uber receiving a 17.5% stake in Didi which was then valued at $35 billion.
While Uber no longer exists in China, the paper value of its stake in Didi has risen to around $8 billion from $6.1 billion, based on Didi's recent funding round valued at $50 billion.