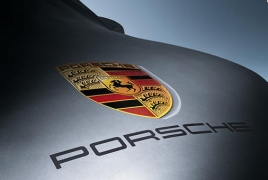 July 17, 2017 - 12:41 AMT
PanARMENIAN.Net - Porsche knows that electric vehicles are the future, and it just took a big step to prepare for that future. The performance car brand just opened a new office in Berlin, and the new facility includes the company's first two ultra-fast 800-volt chargers, Engadget said.
They can 'only' charge existing EVs at up to a 150kW charge rate (which is still faster than a 120kW Tesla Supercharger), but they can handle up to 350kW for future cars. For Porsche's upcoming Mission E, that would mean an 80 percent charge in 15 minutes. That's longer than a typical stop at the gas station, but short enough that you don't have to plan your EV trips around charging station visits.
It won't stop there, of course. Another high-speed station is under construction at Porsche's American headquarters in Atlanta, and the firm expects to ramp up installations by the time the Mission E arrives in 2019. In other words, early adopters will have at least some options for topping up quickly.
Porsche won't be alone for long. It's partnering with other car companies on installing 350kW-capable charging stations across Europe, and Tesla vows to compete with even faster chargers.