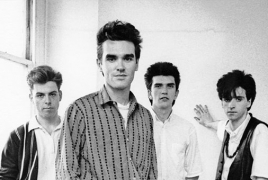 July 18, 2017 - 15:56 AMT
PanARMENIAN.Net - The Smiths have announced a 'Super Deluxe Edition' of their iconic album 'The Queen Is Dead', NME reports.
The iconic Manchester band teased the release last month, after the official Smiths Facebook page posted an archive image of a coffin being carried, along with the caption: "#TQID 16.06.17″
As Stereogum points out via Morrissey fan-forum Morrissey-Solo, the re-issue was available to pre-order via Amazon's UK store, but has since been taken down. Available as both a two CD box set and a CD/DVD set, the first disc of the release features a fully-restored version of 'The Queen Is Dead', while the second features a number of b-sides and rarities.
Earlier this year, The Smiths released a new vinyl single with unreleased recordings for Record Store Day. It featured featuring as unissued demo-mix version of 'The Boy With The Thorn In His Side' as the A-side, and an unreleased version of 'Rubber Ring' as the B-side.
Meanwhile, last year saw Morrissey claim that Warner refused to reissue 'The Queen Is Dead' for its 30th anniversary. "I am sorry that Warner UK or Sire US cannot provide any celebrations for the anniversaries of both recordings, but, perhaps some label bosses have their eye on a tatty OBE, and perhaps others simply have detachable heads," he wrote.
Morrissey continued: "It would not quite be the Smiths if not classically ignored by the dried-out lawns of the establishment. I urged Warner UK to issue a special 'The Queen Is Dead' single release for the first week of June … but … brick wall."
The Smiths have been the subject of constant speculation over a possible reunion since their split in 1987. Last year, Johnny Marr revealed that he met up with Morrissey in 2008 in which they discussed the possibility of reuniting the band. However, the guitarist has since stated that he has no intention of a reunion. Morrissey has also said that reuniting The Smiths with Marr "doesn't make sense any more".
"People just don't want to let go of this fractured band business," Marr said. "You know, we were never gonna be together for 30-40 years. We weren't REM, we weren't U2, you know it's just nonsense. We had 70 songs in the bank. That was enough."
Marr added: "I'll get on with doing movies and making records with other people and which is what I always wanted to do. So, I'm very happy with the way everything turned out."