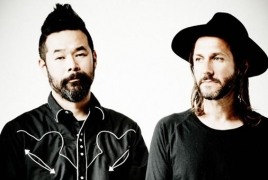 July 20, 2017 - 18:58 AMT
PanARMENIAN.Net - Feeder have announced not one, but two new albums to celebrate their 21st year of releasing music. The Welsh band will put out a 'definitive' best of compilation, The Best Of Feeder, along with an album of all new material, Arrow, with the two to appear side by side this autumn, Gigwise said.
Both records will be released on 29 September, with the compilation available digitally, as a deluxe packaged 4 disc vinyl, deluxe 3CD collection or standard double CD. The deluxe versions will include all 9 tracks of their new album Arrow, while the double CD will include 4 of the songs.
The first new track, 'Figure You Out', is available to listen to now, which bears the band's signature mix of weight and melody. On their unusual idea to combine the two releases into one package, the band's Grant Nicholas said: "We really wanted to include some new songs to this package to give the Best Of something new and fresh amongst the older tracks and to make it feel a bit more special for the fans. It also adds something different to the singles album that we released 11 years ago. The new recordings grew into a body of work which we have named Arrow and includes 9 new songs."
Last year, the band's 9th album reached the UK top 10, and they embarked on a sold-out tour that, Nicholas says, saw them creatively re-invigorated. "I remember sitting in a classroom at school aged 11 drawing pictures of flying V guitars and dreaming of being in a band, a band that could fill arenas and stadiums. The dream came true and here I am 25 years later with Feeder and still riding the rock and roll train. It's hard to believe that Swim, the first mini album, was released 21 years ago. It feels like yesterday."