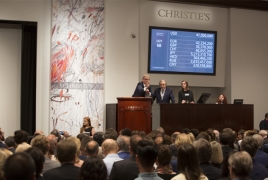 July 24, 2017 - 18:13 AMT
PanARMENIAN.Net - Continued global demand and creative sale planning helped to drive a rise in Christie's auction sales to £2.2bn ($2.8bn, up 14%), a 29% increase from the same period in 2016. Overall sales were £2.35bn ($3bn, up 1%), an increase of 14% compared to £2.1bn in the first half of 2016, Art Daily reports.
There was an increase in the number of works sold over £10 million, with 38 lots sold compared to 14 from the same period last year and a 29% increase in the number of new buyers over £1 million.
Collectors continue to seek diverse works of art across price levels and categories with demand for masterpieces continuing, with 7 of 10 top lots from the first half of 2017 sold at Christie's.
Auction sell-through rates across all lots bands increased to 81%.
Private sales totalled £122.2m ($155.4m) for the first half of 2017, with a strong pipeline of consignments scheduled for the second half of the year.
Christie's were the auction house of choice for sales of collections in the first half of 2017, highlighted by sales of the Fujita collection in New York, the Givenchy collection in Paris and the Lambrecht and de Balkany collections in London.
Total spend online was £75.3 million ($95.8 million) for 1H 2017, when combining the totals for Christie's LIVETM, £55.5 million ($70.6 million) and online-only sales, which remained stable at £19.8 million ($25.2 million). Online-only sales continue to attract the largest number of new buyers (29%). Sell-through rates by lot for sales online rose to 81% and the average price per lot increased to $7,222.
The American Art online sale in May was the second highest total ever for an online-only sale at Christie's. Christies.com was the most visited international auction house website and was named top of the annual Hiscox online art platform ranking in April 2017.