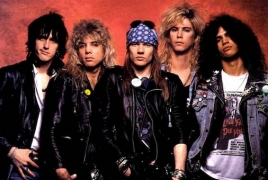 July 25, 2017 - 14:06 AMT
PanARMENIAN.Net - Guns N' Roses are set to record a "magical" new album, according to the band's guitarist Richard Fortus, NME reveals.
Work on the legendary band's next project is expected to start in earnest following the conclusion of their ongoing 'Not In This Lifetime' world tour, and will mark their first proper return to the studio since 2008's 'Chinese Democracy'.
Fortus, who joined Guns N' Roses in 2002, has given fans a brief update on what to expect from the new record, disclosing that the band are "excited" to get back to the studio and write new music.
"Everyone is excited about it. There's a really magical thing now with the band. It feels like a new band," Fortus told the St. Louis Post-Dispatch. "It feels like the best version [of the band] since I joined, and it's the most fun for me. There's so much excitement around it."
Earlier this month, NWA members DJ Yella and MC Ren revealed that the pioneering hip-hop group nearly toured with Guns N' Roses back in the 1990s.
"We were supposed to do a couple of shows with them, but our manager got too greedy," Yella said. "They wanted to give us $25,000 for 10 minutes, but our management wanted $50,000 so it didn't work. We might have ended up doing a whole bunch of shows with them."