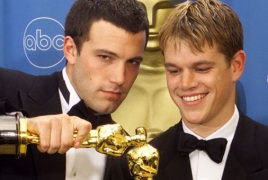 July 28, 2017 - 12:03 AMT
PanARMENIAN.Net - Ben Affleck and Matt Damon are reteaming off-screen as Showtime orders a new one-hour drama pilot hailing from the Oscar-winning filmmakers. Titled "City on a Hill", the pilot will be set in Boston in the early 1990s, AceShowbiz said.
The drama pilot is based on an original idea by Affleck and Chuck MacLean ("Boston Strangler"), who writes the script, and is a fictional account of what is called "the Boston Miracle." The upcoming pilot will explore Boston when corruption and racism are the norms in the city.
However, it all changes after an African-American district attorney from Brooklyn arrives in the city, advocating change. He forms an unlikely alliance with a corrupt yet venerated FBI veteran who is invested in maintaining the status quo. The two take on a family of armored car robbers in a case that eventually upends the city's criminal justice system.
Gavin O'Connor ("The Accountant") is tapped to direct the pilot. O'Connor will also serve as executive producer alongside James Mangold ("Logan") and Jennifer Todd ("Memento") of Pearl Street Films. Meanwhile, Pearl Street develops the project with IMG. No casting has been announced by far.
" 'City on a Hill' is a gritty thriller about severe corruption and gangs, the type of series that takes you back and centers around the crime-riddled streets of Boston in the early 90s," says Todd of the pilot. "Chuck wrote a pressure-cooker of a script steeped in the tribal codes of a Shakespeare play-family, blood, betrayal, honor," O'Connor adds. "His take on the ties that bind is handled with a deep honesty and insight. I see the show as a brawling thriller-and an intimate family drama-played out on the rough streets of Boston."