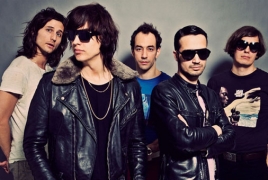 July 29, 2017 - 14:28 AMT
PanARMENIAN.Net - Albert Hammond, father of The Strokes guitarist Albert Hammond Jr, has revealed that his son's band are working on a new album with Rick Rubin, NME reports.
Last October, bassist Nikolai Fraiture told NME that the band were working on the follow-up to 2013's 'Comedown Machine'.
At the time he said: "As people know by now, deadlines are not our forte. Anticipation and surprises are still part of the excitement of releasing new music."
Now, Hammond who also previously spilled the beans on their 2013 album, confirmed they are working with legendary producer Rubin.
He told The West Australian: "They're making a new album now with a great producer called Rick Rubin. I speak to my son every day and he says that they're so happy. I'm sure this will be a very successful record."
Hammond also revealed he personally paid for studio time when The Strokes recorded their 2001 debut 'Is This It'.
"Nobody understood them, so I said, 'Here's the money, go in the studio and make the record'," he said. "I never got it back, but it doesn't matter. I just love knowing I helped them out."
"I'm very proud of the band and of my son," Hammond added. "They're like all my children because I was there from the beginning."
"I used to go to their rehearsals and they were very loud. I used to say 'Guys, guys – mountains and valleys, highs and lows'."
The Strokes last released new material last year in the form of their 'Future Present Past' EP.
Meanwhile, Hammond Jr recently described how his struggles with drugs may have "killed" his bandmates' dreams, saying that he doesn't know if they are still "mad" at him about it.
The comments come in a new book by Lizzy Goodman called Meet Me in the Bathroom: Rebirth and Rock and Roll in New York City, 2001–2011, which details the rise of 2000s NYC indie bands such as The Strokes, The Yeah Yeah Yeahs, LCD Soundsystem, Interpol and Vampire Weekend.