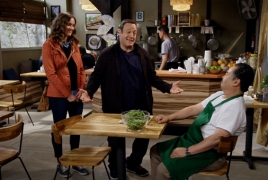 August 2, 2017 - 16:28 AMT
PanARMENIAN.Net - "Kevin Can Wait" is joining the ranks of "This Is Us" when it comes to mysterious deaths. On the heels of the announcement that Erinn Hayes' "Kevin Can Wait" character, Donna Gable, will be killed off for the second season of the Kevin James sitcom, fans are wondering how the mom of three will die. James' former "King of Queens" wife, Leah Remini, will join the cast of the show as Hayes' Donna departs for good, Inquisitr reports.
Speaking at the Television Critics Association panel in Beverly Hills, CBS executives broke the news that Hayes' character will die off-camera ahead of the second season of Kevin Can Wait. One journalist tweeted that there were "noticeable groans" from the TCA audience when it was revealed that Hayes' character will be killed off.
CBS entertainment president Kelly Kahl revealed he has already seen the first few scripts of Kevin Can Wait's second season, which will start with a "nine- or ten-month" time jump. Kahl promised that Donna Gable's death will be addressed "tastefully" and that it would help to move the series forward, but he admitted that the death of a wife and mother is not a funny storyline.
"I'm not sure we can make that hilarious," he said.
CBS confirmed that Erinn Hayes had no say in how her character will be killed off. But fans already have some tongue-in-cheek theories about how Donna will go out.
"Doug Heffernan never would have murdered his wife with an axe&left pieces of her around town with clues. #KevinCanWait," a fan tweeted.
"Kevin Can Wait in a Holding Cell While Being Investigated For His Wife's Murder," another one said on Twitter.
"It's Heaven Can Wait for Kevin Can Wait as he hides his wife's body so he can use her credit card to pay for tickets to Truckasaurus," a third onw said.
"I for one applaud the decision to have the 2nd season of Kevin Can Wait focus on hunting down his wife's killer and avenger her death," one more Twitter user said.