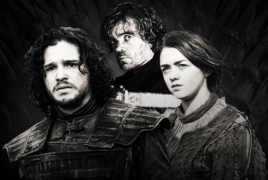 August 9, 2017 - 13:24 AMT
PanARMENIAN.Net - Game of Thrones fans might be surprised, but there could have been a much more complicated romance evolving according to George RR Martin's original idea.
The idea was leaked through a series of tweets back in 2015, which contained excerpts of Martin's pitch letter to HarperCollins, but the posts were hastily deleted – the publisher has confirmed that the letters were legitimate though.
A Vanity Fair article gives an insight into the reimagined version of the story.
The first part of this excerpt from Martin's letter follows Tyrion's eventual arc fairly closely, but then it takes a turn:
"Exiled, Tyrion will change sides, making common cause with the surviving Starks to bring his brother down, and falling helplessly in love with Arya Stark while he's at it. His passion is, alas, unreciprocated, but no less intense for that, and it will lead to a deadly rivalry between Tyrion and Jon Snow."
Right, that's not happening. But let's take a closer look at this, from Martin:
"[Arya] realizes, with terror, that she has fallen in love with Jon, who is not only her half-brother but a man of the Night's Watch, sworn to celibacy. Their passion will continue to torment Jon and Arya throughout the trilogy, until the secret of Jon's true parentage is finally revealed in the last book."