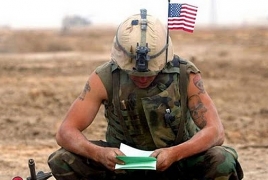 August 11, 2017 - 14:46 AMT
PanARMENIAN.Net - According to a U.S. coalition spokesperson, U.S. special forces troops operating in the northern region of Syria's Aleppo Governorate very recently came under fire, Al-Masdar News reports.
The event occurred in the area of the large town of Manbij. The U.S. troops were in vehicles when they came under what has been officially described by coalition sources as a "direct attack" by an unknown group of hostile forces.
Based on the press release, it appears that no U.S. special forces troops were injured or killed as a result of the gunfire that was directed towards them.
U.S. special forces in Syria are embedded with the Kurdish-led Syrian Democratic Forces (SDF) whom they provide battlefield assistance to as military advisors, forward air controllers, artillery spotters and even as front-line fighters (despite endless denials from official coalition sources).