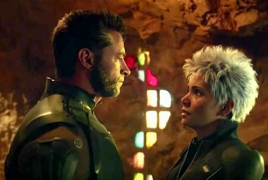 August 11, 2017 - 17:05 AMT
PanARMENIAN.Net - Halle Berry reveals that Storm, the character she played in the "X-Men" film series, and Wolverine a.k.a. Logan, played by Hugh Jackman, had a secret romantic relationship. The actress made the revelation in an interview with Entertainment Weekly.
Halle confirmed to the site that her character, whose alter-ego is Ororo Munroe, and Logan "used to be lovers." The 50-year-old Oscar-winning actress noted, "It's true," before adding, "Storm and Logan had a thing," AceShowbiz says.
Halle's Storm and Hugh's Logan were last seen together in "X-Men: Days of Future Past". Confirming their secret romance was a deleted scene from Bryan Singer's 2014 film. It featured Logan kissing Storm goodbye before traveling back to the 1970s.
Halle and Hugh wanted to keep the material for their characters' backstories. The actress said, "I joke in the movies, I'm like, 'How come nobody's loving on Storm.' Like what's wrong with Storm? Nobody is checking for Storm."
The actress described the Storm-Wolverine relationship as "wonderful," though it didn't last long because of Jean Grey, played by Famke Janssen. "When he really decided that Jean Grey was his [love] ... that caused a problem," she said. Storm was left heartbroken, but Halle maintained "the having two girls at once thing, that didn't work for ... that doesn't work for Storm."