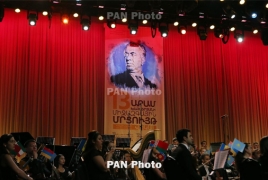 August 16, 2017 - 13:04 AMT
PanARMENIAN.Net - The Pacific Ballet Dance Theatre, under the direction of Natasha Middleton and Ruben Tonoian, will present "The Best of Khachaturian" on September 17, 2017 at the beautiful Alex Theatre, Glendale, California.
The afternoon will include selections from such famous ballets as "Spartacus," "Gayane," "Masquerade" and a new ballet by Natalie Middleton, "Remember" dedicated to the memory of the Armenian Genocide, Nono Arts District says.
"This show is dedicated to the Armenian Genocide,"says Middleton.
We chose Aram Khachaturian because he is Armenia's preeminent composer. His ballets "Gayane," "Masquerade" and "Spartacus" are the most famous. Our principle ballerina for "Masquerade," Alina Bormotova (North Hollywood local) originally danced with the Moscow Festival Ballet and the Russian National Ballet. She will be dancing with Grigori Arakelyan, principle dancer from the Opera and Ballet Theatre of Armenia and Alexander Fost, finalist in "So You Think You Can Dance." "Spartacus" will be danced by Inga Demetryan and Eduard Sargsyan also both from the Opera and Ballet Theatre of Armenia. "Gayane" will be performed by principle dancers Elen Harutyunyan (another North Hollywood local) from San Francisco Ballet and National Ballet of Armenia and Edgar Nikolyan of the Staats Opera Ballet in Vienna, Austria."
Khachaturian's most famous works include the Masquerade Suite (1941), the Anthem of the Armenian SSR (1944), three symphonies (1935, 1943, 1947), and around 25 film scores. Khachaturian is best known for his ballet music—Gayane (1942) and Spartacus (1954). His most popular piece is the "Sabre Dance" from Gayan and has been covered by many musicians around the world.