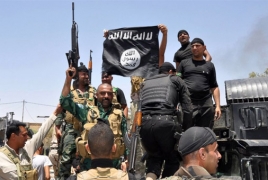 August 22, 2017 - 13:21 AMT
PanARMENIAN.Net - The Islamic State forces trapped in the ever-shrinking east Hama pocket (also called the Uqayribat pocket) have launched fresh attacks – at least according to the terrorist group's own account – in the direction of Salamiyah city against pro-government troops, Al-Masdar News reports.
The apparent attacks by the IS group come despite the exceptionally depraved strategic position the terrorist group finds itself in throughout the region.
IS media has released a handful of pictures showing its fighters attacking pro-government forces with a range of light fire support weapons including 81-mm medium mortars, medium-sized machine guns and an AGS-19 grenade launcher.
As far as confirmed reports suggest, the militants have made virtually no gains at all.
Read also: Russian airstrikes "kill hundreds of IS militants" near Deir ez-Zor