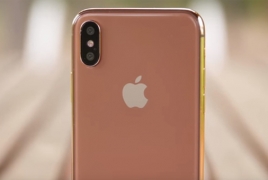 August 24, 2017 - 17:31 AMT
PanARMENIAN.Net - iPhone fans will already have September 12 cleared in their diaries. After all it has been seen as the expected launch date of the new iPhone portfolio for many months. But now that appointment can be firmed up, as the date has been confirmed by a number of sources (although Apple is still to officially comment), Forbes says.
The twelfth is being reported by French site Mac4Ever with the corroborating information coming via the French telecoms networks. Like any mobile network they will be sorting out staff rotas, planning marketing campaigns, and generally will have to be ready in advance of Apple's announcements. That means pre-briefing dates and times to the networks, and that means the information is out there.
Launching the devices on September 12 sits within the traditional window of the launch events of new Apple smartphones. Many would expect Apple to carry on with the traditional date and look at the Friday after the launch event to be the opening of pre-orders (which would be September 15) with the handset going on sale one week later on Friday September 22.
This date also gives Apple the best chance to disrupt any smartphone that picks up momentum after the Berlin IFA show. In previous years Sony and LG have managed to come out of that show with critical acclaim that translated well into consumer recognition. With IFA finishing the week before (it runs from September 1st to September 6th) the tech press will cover IFA, call their winners, fly home… and then it will be Monday 11th and time to preview the Apple event before the event happens the next day.