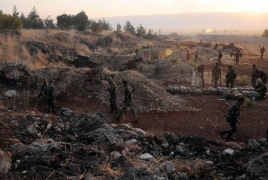 August 25, 2017 - 17:00 AMT
PanARMENIAN.Net - The Syrian Arab Army (SAA) unleashed another vicious assault in the eastern suburbs of Damascus this week, firing a multitude of missiles towards the defenses of Faylaq Al-Rahman and Hay'at Tahrir Al-Sham, Al-Masdar news reports.
Using surface-to-surface missiles, the Syrian Arab Army's 42nd Brigade of the 4th Mechanized Division repeatedly struck the Islamist positions, inflicting heavy damage on the latter's defenses in the east Damascus suburbs of Jobar and 'Ayn Tarma.
Ibrahim Joudeh, the 42nd Brigade fired more than 20 surface-to-surface missiles towards Jobar and 'Ayn Tarma last night, scoring several direct hits on the Islamist defenses, Al-Masdar says.
The Syrian Arab Army has made it clear to Faylaq Al-Rahman that they will not adhere to any ceasefire that includes the Al-Qaeda affiliated Hay'at Tahrir Al-Sham militant group; and as long as they remain entrenched with this radical faction, the government will attack the area.