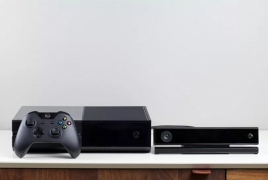 August 26, 2017 - 14:01 AMT
PanARMENIAN.Net - Microsoft is no longer selling its original Xbox One in the US. The software giant only offers retail versions of the Xbox One S and Xbox One X at its online store, with just $199 refurbished models of the original Xbox One available. Kotaku UK reports that while the original Xbox One has vanished from the US store, Microsoft's UK store simply lists the old console as "sold out," The Verge reports.
The original Xbox One, that resembled a VCR unit, first launched nearly four years ago priced $100 more than Sony's PlayStation 4. The gap and the fall out from Microsoft's mixed messaging on the Xbox One led to Sony taking an early lead in the console wars. Microsoft closed the price gap by unbundling the Kinect sensor from the Xbox One, six months after originally launching the console. While the Xbox One has struggled to match the sales pace of the PS4, Microsoft has refocused its efforts on games and better hardware.
Microsoft launched the Xbox One S last year with a slimmed down look in a robot white style, and also stopped manufacturing the Xbox 360. The smaller console was widely praised over the original console's design, and also included 4K support for Blu-ray discs and apps like Netflix and Amazon Video. Microsoft is now focusing on the Xbox One S for the entry console, and it's upcoming Xbox One X for hardcore Xbox fans.
After opening preorders last week, Microsoft now says the Xbox One X is the "fastest-selling Xbox pre-order ever." It's hard to calculate exactly what that means, as Microsoft hasn't provided numbers for its "recording-setting" sales. However, Microsoft sold out of Xbox One X units at Amazon in 25 minutes, and it says fans "have pre-ordered more Xbox One X Project Scorpio Edition consoles in the first five days than any Xbox ever." Microsoft is now planning to open Xbox One X standard edition preorders next month.