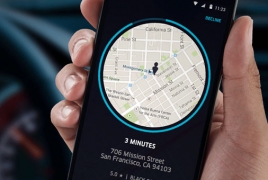 August 29, 2017 - 16:51 AMT
PanARMENIAN.Net - Uber Technologies Inc is pulling a heavily criticized feature from its app that allowed it to track riders for up to five minutes after a trip, its security chief said, as the ride-services company tries to fix its poor reputation for customer privacy, Reuters reports.
The change, which restores users' ability to share location data only while using the app, is expected to be announced on Tuesday, August 29 and rolled out to Apple Inc iPhone users starting this week. It comes as Uber tries to recover from a series of crises culminating in the ouster of Chief Executive Travis Kalanick and other top executives.
Dara Khosrowshahi, the CEO of travel-booking company Expedia Inc is set to become Uber's new chief executive, sources have said.
The location-tracking update is unrelated to executive changes, said Joe Sullivan, Uber's chief security officer, in an interview with Reuters. Sullivan and his team of about 500 have been working to beef up customer privacy at Uber since he joined in 2015.
"We've been building through the turmoil and challenges because we already had our mandate," said Sullivan, who is a member of the executive leadership team that has been co-running Uber since Kalanick left in June.
An update to the app made last November eliminated the option for users to limit data gathering to only when the app is in use, instead forcing them to choose between letting Uber always collect location data or never collect it.