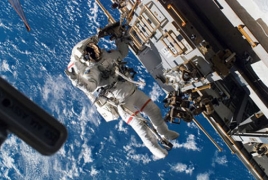 September 2, 2017 - 16:54 AMT
PanARMENIAN.Net - The forthcoming spacewalk from the International Space Station (ISS) under the Russian program is due in January 2018, cosmonaut Aleksandr Misurkin, who is to go to the ISS with a new crew, told a news conference on Friday, September 1, TASS reveals.
Originally the spacewalk was scheduled for the end of 2017 to be eventually postponed till February 2018. Installing equipment on the outer surface of the ISS for data transmission via the satellite system Luch was then named as the spacewalkers' main task.
"At the moment extravehicular activity is on the expedition's schedule. Under the Russian program the spacewalk is expected in January. Anton Shkaplerov (due to go to the ISS in December) and I will perform the mission together," Misurkin said.
Installing Russia's newly-designed system of communication will be the main task.
"It will be a wide-band system of communication that will eventually improve the quality of current experiments underway on board the ISS and help stage new ones.
NASA's Mark Vande Hei and Joseph Acaba will go to the ISS together with Misurkin.
Their spacecraft Soyuz MS-06 is to blast off from the Baikonur space site in Kazakhstan on September 13 at 00:58 (Moscow time).