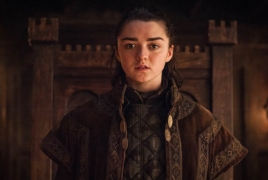 September 2, 2017 - 17:34 AMT
PanARMENIAN.Net - Arya Stark reunited with her younger brother Bran and older sister Sansa in "Game of Thrones" season seven but now, Maisie Williams has hinted at another major reunion, The Express says.
Arya has spent a large portion of her time on the hit HBO series travelling alone as she escaped the clutches of Cersei Lannister (played by Lena Headey) by fleeing King's Landing in the first series.
Since then she has travelled around Westeros and even sailed to Braavos but fans were pleased when she finally returned to Winterfell in the seventh run.
And, while many rejoiced when she came face-to-face with Sansa (Sophie Turner) and Bran (Isaac Hempstead-Wright), there's another character she's hoping to meet once more.
Fans will remember that Arya spent some time with The Hound (Rory McCann) before leaving him to die in season four.
In the season seven finale, The Hound appeared pleased when he learned that the youngster was still alive - but how will Arya react when she finds out he has survived?
"I don't think there's any hard feelings anymore," Maisie said in the HBO "Making Game of Thrones" blog. "What Arya experienced in Braavos took a far worse toll on her.
"The feelings she had about The Hound were very immature, and I feel like she's grown up since then.
"If they met again, she'd hopefully just be an effective killer with him, rather than against him."
It comes after Gwendoline Christie, who stars as Brienne of Tarth, hinted at a frosty reunion between her character and Sansa after the Lady of Winterfell had Littlefinger (Aidan Gillen) killed.
The star explained: "Brienne doesn't believe in dispatching a life unless it's absolutely necessary. Unless it's official.
"Look at the way she beheaded Stannis. She essentially read him his rights. Although it was loaded with emotion for her, she presented it in a very official, formal way, with great nobility.
"So I don't know how Brienne will react to people taking matters into their own hands at Winterfell."