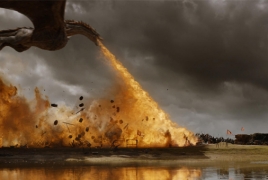 September 4, 2017 - 14:57 AMT
PanARMENIAN.Net - Nikolaj Coster-Waldau, the actor who plays Jaime Lannister on "Game of Thrones" confirmed that some of the main characters are going to get turned into wights or White Walkers.
The actor did not rule out in a recent interview with Esquire that his character might be looking for "some sort of commander" in Jon Snow, played by kit Harington.
"You see him covering up his gold hand, and he knows he has to get to some sort of commander—whether it be Jon Snow or someone else in charge," Coster-Waldau said.
"Otherwise, he's going into enemy territory, and he's quite recognizable with that gold hand. If he wants to even get to battle before he's killed by Stark soldiers, he's going to need a bit of luck. You'd hope he can get there. But who knows, I might read Episode One of Season Eight and it says Jaime meets a Stark soldier and he's killed. It would be so disappointing.
"The fear is that I would be turned into one of those undead. That would suck. You know some of the main characters are going to get turned. There are going to be some blue-eyed main characters running around. And, god, I hope it's not me. That's three hours of make-up in the morning. I know that if David Benioff and Dan Weiss read this, they'll go, "Oh, yes we will."