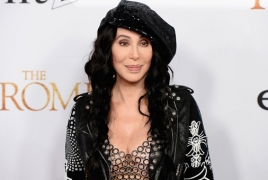 September 7, 2017 - 17:56 AMT
PanARMENIAN.Net - Cher has been unequivocal when it comes to her feelings about the Trump administration. So it should have been no surprise that on Tuesday (Sept. 5) the iconic pop singer was livid when news emerged that Pres. Trump was going through with his plan to end the DACA (Deferred Action for Childhood Arrivals) program put in place by Pres. Obama in 2012 to protect "DREAMers" (named for the Development, Relief, and Education for Alien Minors Act), who came into the country as children from being deported, Billboard reports.
While Trump did not make the expected announcement himself -- he outsourced it to Attorney Gen. Jeff Sessions -- Cher labeled the reality-TV-star-turned-commander-in-chief a "complete coward" for his action, which affects up to 800,000 DREAMers.
In addition to her angry reaction, the U.S. singer of Armenian origin doubled down by vowing to take in some of those affected, and encouraging her fans to do the same. "Those who can must take a DREAMER in2 their home & protect them!!" she tweeted. "I'm ready 2 do this."
That bold promise elicited a response from one skeptical Twitter user who wrote back, "Sure you will Cher... I'll believe it when I see it!" As you may have guessed with Cher, she did not take the challenge sitting down. Check out the exchange below.
With protests in major cities all over the nation on Tuesday in reaction to the president's action -- which he said he'll give Congress six months to figure out -- a growing chorus of musicians, actors and athletes joined the list of those speaking out against Trump's seeing reversal of his plans for DREAMers.