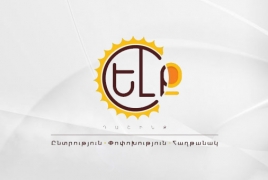 September 8, 2017 - 18:41 AMT
PanARMENIAN.Net - Armenia's Yelk bloc has submitted a draft project for leaving the Eurasian Economic Union to the National Assembly.
According to the document, the country's DGP declined 8% in the three years of its membership in the union, the employment rate dropped 13%, international reserves dwindled by 40%, while the government debt grew 10%.
Also, the bloc argues that the EEU member-states have never provided assistance in the peaceful settlement of the Nagorno Karabakh conflict.
The proposal states that while the United States and the European Union have refused to sell arms to Azerbaijan, EEU countries have been doing it with great enthusiasm.
As an alternative, Yelk suggests that leaving the EEU will let Armenia finally complete the Association Agreement it was going to sign with the European Union back in 2013.
Lawmakers and representatives of the ruling Republican Paty of Armenia have on various occasions ruled out such a scenario.