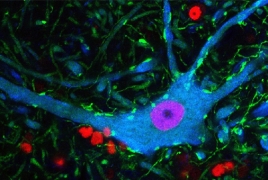 September 9, 2017 - 17:35 AMT
PanARMENIAN.Net - Scientists have found a way to convert skin cells from healthy adults directly into motor neurons without going through a stem cell state, thereby making it possible to study motor neurons of the human central nervous system in the laboratory, The Economic Times reports.
Unlike commonly studied mouse motor neurons, human motor neurons growing in the lab would be a new tool since researchers cannot take samples of these neurons from living people but can easily take skin samples.
Motor neurons drive muscle contractions, and their damage underlies devastating diseases such as amyotrophic lateral sclerosis and spinal muscular atrophy, both of which ultimately lead to paralysis and early death.
The technique, described in the journal Cell Stem Cell, could help researchers better understand these diseases.
"In this study, we only used skin cells from healthy adults ranging in age from early 20s to late 60s," said senior author Andrew Yoo, Assistant Professor at Washington University School of Medicine in St. Louis.
To convert skin cells into motor neurons, the researchers exposed the skin cells to molecular signals that are usually present at high levels in the brain.
"Our research revealed how small RNA molecules can work with other cell signals called transcription factors to generate specific types of neurons, in this case motor neurons," Yoo said.
"In the future, we would like to study skin cells from patients with disorders of motor neurons. Our conversion process should model late-onset aspects of the disease using neurons derived from patients with the condition," Yoo added.
Avoiding the stem cell phase eliminates ethical concerns raised when producing what are called pluripotent stem cells, which are similar to embryonic stem cells in their ability to become all adult cell types.
And importantly, avoiding a stem cell state allows the resulting motor neurons to retain the age of the original skin cells and, therefore, the age of the patient.