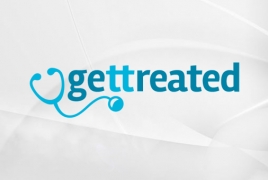 September 13, 2017 - 13:07 AMT
PanARMENIAN.Net - The Armenian startup GetTreated is designed to find the most cost- and time-effective medical treatment opportunities around the world for patients. Created by Raffi Elliott, this Platform as a Service (Paas) strives to help users discover any clinic in any corner of the world, talk to a specialist of their choice and book the entire trip. Patients can even submit their medical records and arrange consultations if need be.
In a conversation with PanARMENIAN.net, Raffi remembers the reasons for founding the startup and his decision to move from Canada to Armenia.
"I was born and raised in Canada to an Irish-Canadian father and an Syrian-born Armenian mother. I had visited Yerevan many times before finally repatriating in 2011 where I founded a successful web development company. We were based in Yerevan, but chiefly collaborated with foreign customers ," Raffi says.
Several years later, Raffi received treatment for a long-overdue health issue. According to him, Canadian doctors either didn't know how to handle the problem or simply had no desire to help him.
"I had heard about people coming to Armenia to see a dentist or a plastic surgeon, and when I was operated on, I was really surprised by the price-quality ratio. American patients are usually left with huge bills for routine operations, while Canadians can enjoy free treatment at the expense of long wait times. In Armenia, on the contrary, mine turned out to be quite cost-efficient, and the result was wonderful. It was then that I decided to create an app to help other people around the globe gain accessible medical treatment," the young Armenian talent says.
Once the decision was made, international market research followed suit. Raffi says medical tourism is a $55 billion global market, which grows by 10% per annum.
"We have developed a platform that organizes every step of medical travel by automatically booking consultations, operation dates, flights and hotels. And this process is 100% safe," Raffi explains.
GetTreated was among the 15 Armenian startups that were recently unveiled to German business circles in Berlin. The Armenian Startup Academy Berlin (ASAB) was organised by the Support to SME Development in Armenia (SMEDA) project, which is co-funded by the European Union and the German Federal Ministry for Economic Cooperation and Development (BMZ) and implemented by GIZ Private Sector Development in South Caucasus Programme.
SMEDA is part of the EU4Business and EU4Innovation initiatives of the European Union.